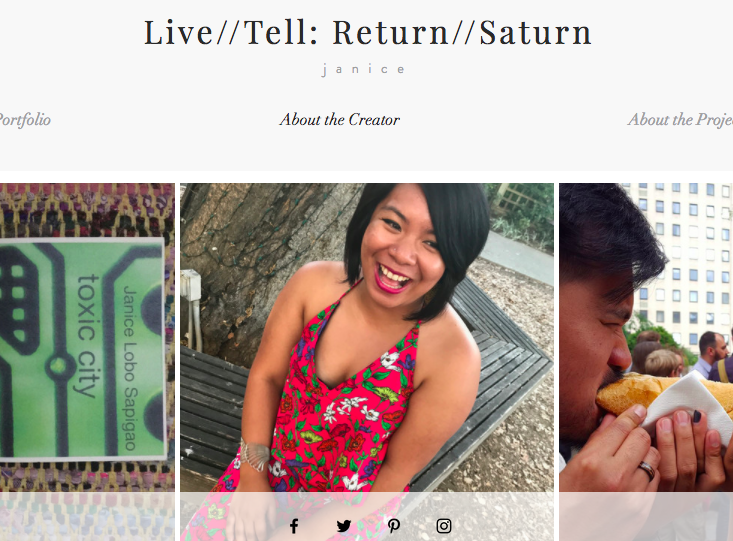 For Janice's whole project/gift, click HERE

I'm blessed to know this woman and call her friend, and I dare say one of my life and art's greatest teachers thus far. She taught me the power in our softness. She taught me how to speak up without talking over the ones we respect and love. She taught me how to return. For Janice's 30th birthday this year, her own Saturn Return, she and I caught up over the phone a few days before and she shared with me her upcoming project, "livetotell" - a series of 30 different photos and stories behind each one. Now, you have to understand what a bad ass writer this woman is. If you don't, take the time to figure it out. So it came as super unexpected and one of my greatest honors when Janice created space in her 30 slots for me, for my writing, and to acknowledge my love.

For more of Janice Sapigao's incomparable work, you can also peep out her website at http://www.janicewrites.com/
"Kim Davalos is a beautiful soul. She is my friend, co-worker, and one of my favorite poets. She writes in the tradition of nayyirah waheed, but really speaks from the beating life of everyone's heart. Like, the real beat. Like, impulse and contraction. Like electricity. It awakens me. Her form can be musical, and the written lyrics she spits leave a trace of where she's been and where we need to be. I love this poem because it reminds me to take care of myself, because isn't that its own kind of work and importance? It is."
facts.
1. this pussy is complicated.
2. Sex and The City fucked me up.
3. i don't want to have children.
carrie bradshaw was, and honestly, still is, the epitome of life goals. years ago i was going through my first real break up with my first love of four years. at that time, my roommate had the Sex and The City series box set and i thought, "meh, why not give this show a try." and like anything else i do in my life, i go from zero to one hundred real quick. so it came to no surprise that i finished the whole series in less than a month. and it changed my life.
...
as much as woman is empowered to find freedom, we fear woman will become too free.
For the whole article, click HERE
Homage Hospitality's Strength in Numbers
Oakland, California is in a state of crisis as a city and as a culture which is also a reflection that mirrors the current threat to Black masculinity in America.
Damon Lawrence, 29, and Marcus Carey, 25, co-founders of Homage Hospitality Group, understand the zeitgeist of our time and have begun to hone in on the adversities for African American males as the crux of their company.

"As we are losing more and more of our safe spaces to gentrification, it's important to continue to create those spaces for people of color, especially for our men," Lawrence stated.
The need for space, not only physical, but all things mental, spiritual, and emotional is even seen as the foundation for Homage Hospitality Group through their business partnership.
For the whole article, click HERE
ONE
Love is annoying
It's stressful and anxiety-provoking
Love keeps you up until 2am
Demanding you work hard at it
Invest in it
Knowing it will also call on you early in the morning
When you're exhausted
You will want to ignore the call
But somehow you get yourself to answer anyways
 
TWO
Love comes when you least expect it
...

For the whole keynote speech, click HERE